AKP chair & President Erdoğan decreed after midnight on the early hours of March 20, Saturday that Turkey is withdrawing from the Istanbul Convention on preventing and combating violence again...
AKP chair & President Erdoğan decreed after midnight on the early hours of March 20, Saturday that Turkey is withdrawing from the Istanbul Convention on preventing and combating violence against women and domestic violence of the Council of Europe. Women across Turkey have started resistance against the withdrawal demanding retraction of the decree. In the last 24 hours, at least 6 women were detected as murdered by men amidst the discussion on the convention that was signed by 45 countries, Turkey being the first to sign.
With the decree published on the Official Gazette upon orders from AKP chair & President Erdoğan, Turkey has announced withdrawal from the
Istanbul Convention
, while it was also the first country to sign the convention in 2011 to show efforts for protection of women and children against violence. Women's movements across the country have reacted strongly and initiated resistance movements calling for retracting the withdrawal decree.
IMMEDIATE INCREASE IN FEMICIDE
In the first 78 days of the 2021, 78 women were murdered in Turkey in femicide cases. End Femicides Platform held a sit-in on Istanbul's Taksim Square on March 22 against the withdrawal from Istanbul Convention, citing the already troubled lack of protection against women and children in the country. In the last 24 hours, 6 women have been found after becoming target of femicide cases, 5 being confirmed to have been murdered by their current or former spouses, while one has been found dead and the assailant has not been caught yet.
RELEASED FROM PRISON & MURDERED
In Antalya's Alanya, 52 year old Besat Doğan who had been in prison was released from as part of the law on execution of prison sentences. He was in the process of having a divorce with 34 year old Rabia Doğan whom he murdered.
ANOTHER MURDER DURING DIVORCE STAGE
In Denizli's Pamukkale, 52 year old Erkan Sivrikaya also murdered 50 year old Meral Sivrikaya, mother of two who was getting a divorce from him.
RUNNING FROM DOMESTIC VIOLENCE
In Osmaniye's Yeniköy Cemal Fikirli murdered the woman he was married to, Serpil Fikirli as she had ran away from home due to heavy domestic violence.
MURDERED FIANCEE
In İzmir's Konak, police officer Fırat K. murdered his fiancee Nagihan Ü. by shooting her with his gun.
MURDER DESPITE RESTRAINING ORDER
In Antalya, 44 years old Hatice Yıldız and her 18 years old son F. were wounded with a knife by the man she was married to. Mustafa Yıldız who stabbed Hatice Yıldız and her son was brought to court and a restraining order was signed against him. While Hatice Yıldız was released from hospital after 11 days, her situation worsened and she lost her life.
UNIDENTIFIED BODY
In Isparta's Gelendost the body that was confirmed to belong to Zilfinur Bakır has been found by the coast of Eğirdir Lake. The discovery of the body came 18 days after she went missing and it was not possible to identify immediately.
WOMEN'S MOVEMENT REACTS
The withdrawal from the convention has received support on social media from many men who celebrated the decree with hateful remarks targeting women, claiming this would bring Turkey back to its morality roots -with reference to the Presidential Communications Directorate's explanation on detailed reason of withdrawing from the Istanbul Convention due to its articles covering the gender aspect, through which LGBTI+ would also be protected which the political islamists do not want to cover. Human Rights Foundation of Turkey also reacted and announced "state will be held accountable for increasing violence against women and the LGBTI+ following withdrawal from Istanbul Convention. A destructive rhetoric has been assumed against gender. In the face of violence, silence means approval."
Women's Movements have declared they will hold 9 pm banging pots & pans protests on windows to raise their voices in protest against midnight decree by AKP chair & President Erdoğan declaring withdrawal from #IstanbulConvention. pic.twitter.com/6tzmDAsDjShttps://t.co/KvbAZjLmHr

— dokuz8NEWS (@dokuz8news) March 23, 2021
Istanbul Convention is the first international agreement prepared for protection of women and children as well as covering "social gender" notion, regardless of biological, legal, familial connections. All kinds of domestic violence -including from current or former partners/spouses, extramarital violence, cohabitants, relatives or family members- are covered within the scope of the convention.
REACTION AT THE UNITED NATIONS LEVEL
Spokesperson for the
UN High Commissioner for Human Rights
, Liz Throssell referred to the High Commissioner's dismay at the withdrawal from the convention as well as referring to the widespread acceptance welcoming of the convention by a large group of the nation in Turkey. The spokesperson also made a call on Turkish authorities to retract the withdrawal decree, conduct consultations with the Civil Society Organizations and women's movement and to make tangible efforts to promote and protect the safety and rights of all women and girls in Turkey.
CRIMES COVERED BY THE CONVENTION
The 45 signatories to the
Istanbul Convention
are bound by the articles cited in it. The convention covers definitions of crimes:
Domestic violence (physical, sexual, psychological, economical)
Harassment & stalking
Sexual assault, including rape
Sexual harassment
Forced marriage
Genital mutilation
Forced abortion
Forced sterilization
Unacceptable Justifications (to remove criminal defences related to adultery, "honour", provocation or other references to the grounds of justification)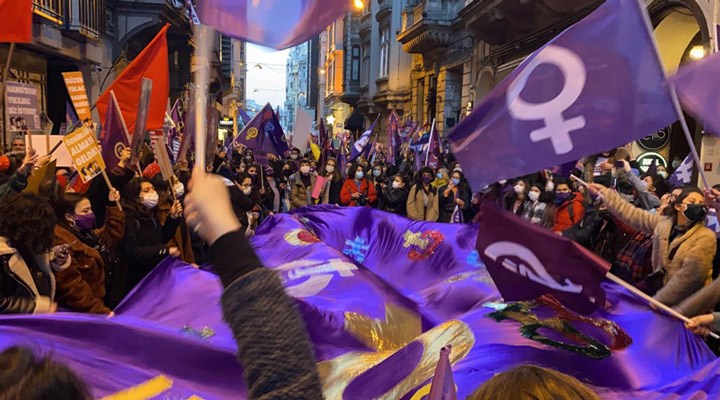 Derya Özkaynak