Since Friday, the student protests against anti-democratic appointment of rectors to universities, bypassing campus elections has been spreading across Turkey. The Boğaziçi University students have been calling for creative support to protestors as petitions around the world are signed by notable academics.
What started out as discontent from government appointing a trustee rector to one of Turkey's most prestigious academic institutions, Boğaziçi University on the first hours of the new year, has turned into a massive student protest movement welcoming thousands of students from across the country. The students' demands are clear: "retract the appointment of trustee rectors and initiate democratic campus elections, allow academic autonomy."
ACCUSING CHP ISTANBUL CHAIR OF TERROR CHARGES
On January 8, as Boğaziçi University students made an announcement rejecting an alleged invitation to the Presidential Palace by a pro-AKP student NGO, AKP chair & President Erdoğan had made a statement after Friday Mass. In his speech, Erdoğan targeted the main opposition CHP Istanbul chair Canan Kaftancıoğlu -for participating Boğaziçi University protests- calling her a "militant terrorist of Revolutionary People's Liberation Party - Front (DHKP-C)." Kaftancıoğlu filed criminal complaint against AKP chair & President Erdoğan as well as Minister of Interior Süleyman Soylu for "abuse of power," "attempt to influence judicial processes," "attempt to influence fair trial" demanding a total of 2 million TL compensation, which she announced if she wins the court case would be donated to families in need.
"LAZY, NARROW-MINDED, UNABLE TO UNDERSTAND"
The President did not stop there with his accusations and continued to refute claims that an invitation was ever issued for the Boğaziçi University students, "We are following closely the plot to instigate incidents on our universities after a routine appointment. Those affiliated with terrorist organizations are at the forefronts of these protests, which have absolutely nothing to do with democracy, human rights or free expression. We have seen different episodes of the same film over our 18 year long governance. We know the actors of these dirty scenarios in many places, including Gezi. Why should I meet with the students. First of all, these are not students but terrorists. This is a mentality of the lazy, narrow minded, with inability to understand what they see, ahead of us. Even with their protesting methods they have once again shown us that they are far from creativity."
CREATIVE SUPPORT TO BOĞAZİÇİ UNİVERSİTY
The students made a call for artist submissions to include even more creative forms of protest and disobedience in campus protests. While in some cases the handcuffs were used as reference to the campus gates being handcuffed, in some other cases lyrics to well-known songs were re-written about the government-appointed trustee rector. https://twitter.com/dokuz8news/status/1347878325532975104 On social media platforms, multiple pro-AKP accounts were seen posting homophobic comments regarding the protests, openly targeting the rainbow flags and LGBTI+ students among protestors, to defy the claims of the protests demanding free & fair campus elections. Students also made a call for submission of artistic works until the 15th of January, to hold a Resistance Exhibition on campus. Artists are invited to submit their works with their names and short presentation & definition. https://twitter.com/dokuz8news/status/1348563757514055680 Cartoonist Zehra Ömeroğlu drew the protest timeline in a caricature and released it on social media. https://twitter.com/dokuz8news/status/1348589532883656704 One of the Boğaziçi Alumni, Dr. Nancy Atakan also shared her work on social media, an embroidery of needle-work on lace, depicting the Boğaziçi University academics turning their backs on the Rectorate Hall on South Campus. https://twitter.com/dokuz8news/status/1348673770828025860 One of Boğaziçi University's cherished traditions, the student clubs available on campus have been sharing creative content in support of the protests on campus. The Cinema Club's manipulated movie posters depicting the government-appointed trustee rector has received high frequency circulation among the students and alumni.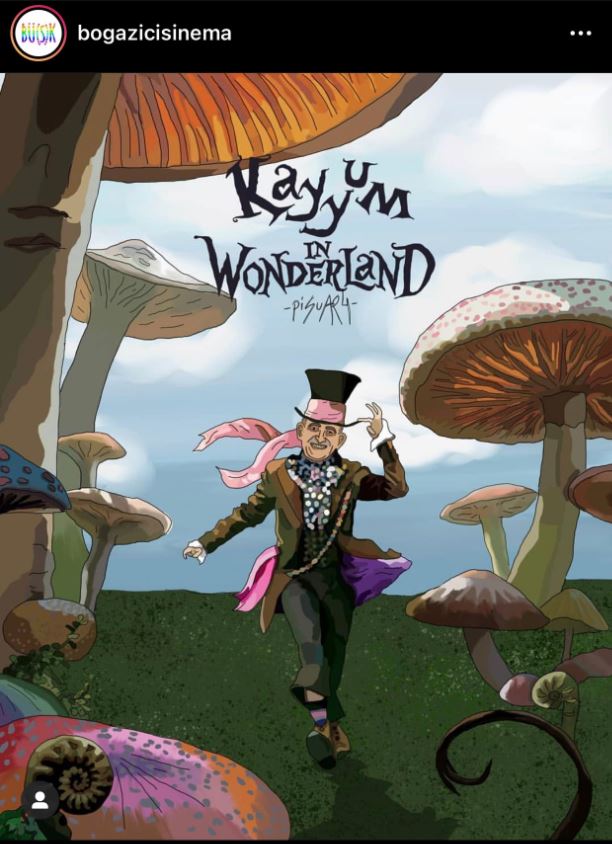 PROTESTS SPREADING AROUND THE WORLD
Boğaziçi University alumni organizations in various countries have held solidarity protests over the weekend. In France, Germany, Norway, Australia, United Arab Emirates the alumni organizations made calls for protest and the gatherings were broadcast live on social media platforms. While there was a nation-wide curfew in Turkey and students were unable to protest over the weekend, the alumni outside of Turkey took up their place. An international petition was also initiated by notable academics and thus far been signed by over 1600 academics. https://twitter.com/dokuz8news/status/1347876421201489925 Aside from the Boğaziçi University alumni, students from various universities across Turkey have been holding solidarity protests at Istanbul University, Istanbul Technical University, Middle East Technical University, Ankara University, Aegean University, Çukurova University, Karadeniz Technical University, as well as student organizations in multiple other cities. https://twitter.com/dokuz8news/status/1348565174106656769
BOĞAZİÇİ UNİVERSİTY RESISTANCE
The students on campus had announced in the previous week of protests that there would be started Boğaziçi Resistance on campus, to pressure the government-appointed trustee rector Melih Bulu to resign from his post. The students initiated the first day of resistance with a campus-rally. January 11 marked day 1 of Boğaziçi University Resistance. https://twitter.com/dokuz8news/status/1348617326812422146
CRIMINAL COMPLAINT AGAINST STRIP SEARCH CLAIMS
After dozens of students were detained last week with dawn raids by anti-terror police, multiple students came out claiming they were tortured in detention and denied proper medical examination. Some students also stated they were subjected to strip-search and asked members of the media to access camera records from the precincts, from the corridors. Istanbul Security Directorate refuted the students' claims of torture stating "there could not be enough time for a strip search in the short span of time they were in body search." Directorate also added that a criminal complaint has been filed against the students making the torture claims. https://twitter.com/dokuz8news/status/1348627698898370560