A package bill expected to be discussed at the Parliament soon, contains serious censorship threats targeting social media and free expression in Turkey.While the governing alliance has been...
A package bill expected to be discussed at the Parliament soon, contains serious censorship threats targeting social media and free expression in Turkey.
While the governing alliance has been drafting a
package bill to address needs of the society in the days of intense struggle against coronavirus
, it has been revealed that the draft package bill includes a new censorship wave targeting messaging applications and social media platforms.The package bill foresees reforming of the 5651 Internet Publications Law.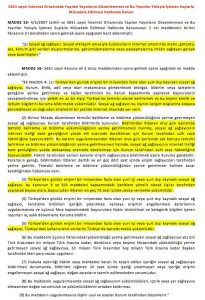 ARRIVING IN THE PARLIAMENT NEXT WEEK
As part of the planned revisions, platforms that allow users to share, publish or browse text, audio, visual content, location, data are defined as "social network suppliers" and the bill is expected to be discussed in parliament in the coming week.
ARMED FORCES TO SUPPORT INFORMATION & COMMUNICATIONS AUTHORITY
Turkey's Information & Communications Authority BTK will be authorised to conduct investigations or order armed forces to conduct investigations for regulatory purposes in case of "need".
SOCIAL MEDIA COMPANIES REQUIRED TO OPEN LOCAL OFFICES
Social network suppliers that receive more than 1 million visitors per day from Turkey are required to open local offices in Turkey and are obligated to comply with orders and requests given from Turkish authorities. These suppliers will also be required to have one permanent autorized representative in Turkey at all times to answer Turkish authorities' demands; the BTK will be notified of appointment of representative in Turkey.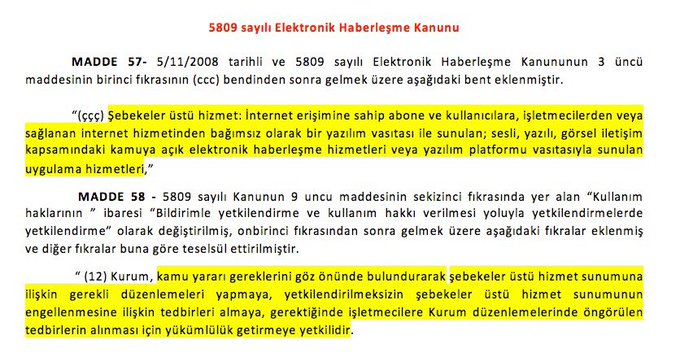 USERS' PRIVATE INFORMATION TO BECOME ACCESSIBLE
Social network users' information is stored on servers that the suppliers determine. According to the new provisions, this information is required to be stored on the web portal which will be made directly accessible for the BTK upon request.
NON-COMPLIANCE WITH REQUIREMENTS
In case of non-compliance with the BTK's requirements of authorizing a representative at Turkey office and notifying the BTK of this representative's information, the authorities will narrow bandwidth of the social network supplier by 59% as a first warning.If the social network supplier does not comply with the requirements 30 days following the first warning, bandwidth will be narrowed by 95% to slow down access to levels below basic minimum.
MONETARY FINES
All social network suppliers will be required to answer all requests from Turkish authorities within the first 72 hours after submission of request; in cases where there has been issued no response from the social network supplier, there will be issued monetary fines between ₺100.000 and ₺1 million.Social network suppliers' offices in Turkey will also submit regular reports to BTK concerning all applications made to the supplier and resolutions.Furthermore, the social network suppliers will also be held responsible for the damages arising from non-compliance with Turkish courts' orders if orders are not implemented in the first 24 hours.
CENSORSHIP TARGETS MEDIA
Lawyer Ece Güner-Toprak announced on her social media accounts that the draft bill includes a heavy censorship application targeting media platforms in Turkey. Güner-Toprak says "Twitter, Facebook and other paltforms will be obliged to have local offices in Turkey, store user data inside Turkey, and apply all content-removal, access blocking, etc. measures immediately upon orders or lose all user traffic due to narrowing bandwidth."[embed]https://twitter.com/EceGunerToprak/status/1248570952037867521?ref_src=twsrc%5Etfw%7Ctwcamp%5Etweetembed%7Ctwterm%5E1248570952037867521%7Ctwgr%5E&ref_url=https%3A%2F%2Fdokuz8haber.net%2Fmedya%2Fsosyalmedya%2Fsosyal-medyaya-buyuk-sansur-girisimi%2F[/embed]
GOOGLE SPECIALIST'S COMMENTARY
A former specialist focusing on Google and Istanbul Metropolitan Municipal Councillor Dr. Taylan Yıldız wrote an article on
T24
where he announced that the draft bill break's Turkey's ties to the rest of the world, "this bill might cause Turkey to completely isolate itself and break ties to the rest of the world, implement all content removal requests immediately without fully evaluating the content, set barriers against freedom of thought and expression."
AUTHORITARIAN SUBCONTEXT
Dr. Yıldız, who is also opposition IYI Party's General Management Council member said "in democratic countries, political parties, experts, academics discuss on regulations concerning social media, so that it protects freedom of thought and expression throughly, and comes to decisions through consensus. Under such circumstances as we are experiencing today, this critical development concerning social media has been penetrated into this draft bill, which I cannot really understand why, while a freer and more democratic Turkey will be taking a more authoritarian swing through this step; really hard to understand why."
OPPOSITION TO SUFFER THE MOST
Continuing on his article, Dr. Yıldız states, "many statements that are classified as 'criticism' in many parts of the world are considered to be 'insults' in Turkey, in pre-consideration that institutions also have a personality and can be hurt from insults. We can deduct this looking at earlier applications already, these kind of vague applicatinos are going to make the opposition members and parties suffer the most."
SOCIAL MEDIA ON THE TARGET
Digital rights specialist lawyer Yaman Akdeniz evaluated the most recent update to the Law numbered 5651 for
DW Turkish
, "all social media platforms primarily Youtube, Instagram, Twitter are being targeted obviously. The target is directly these platforms and their users.On April 30, government ally MHP submitted yet another draft bill to expand scope of Law Numbered 5651, demanding that
users register on social media platforms with their state-issued ID numbers
.